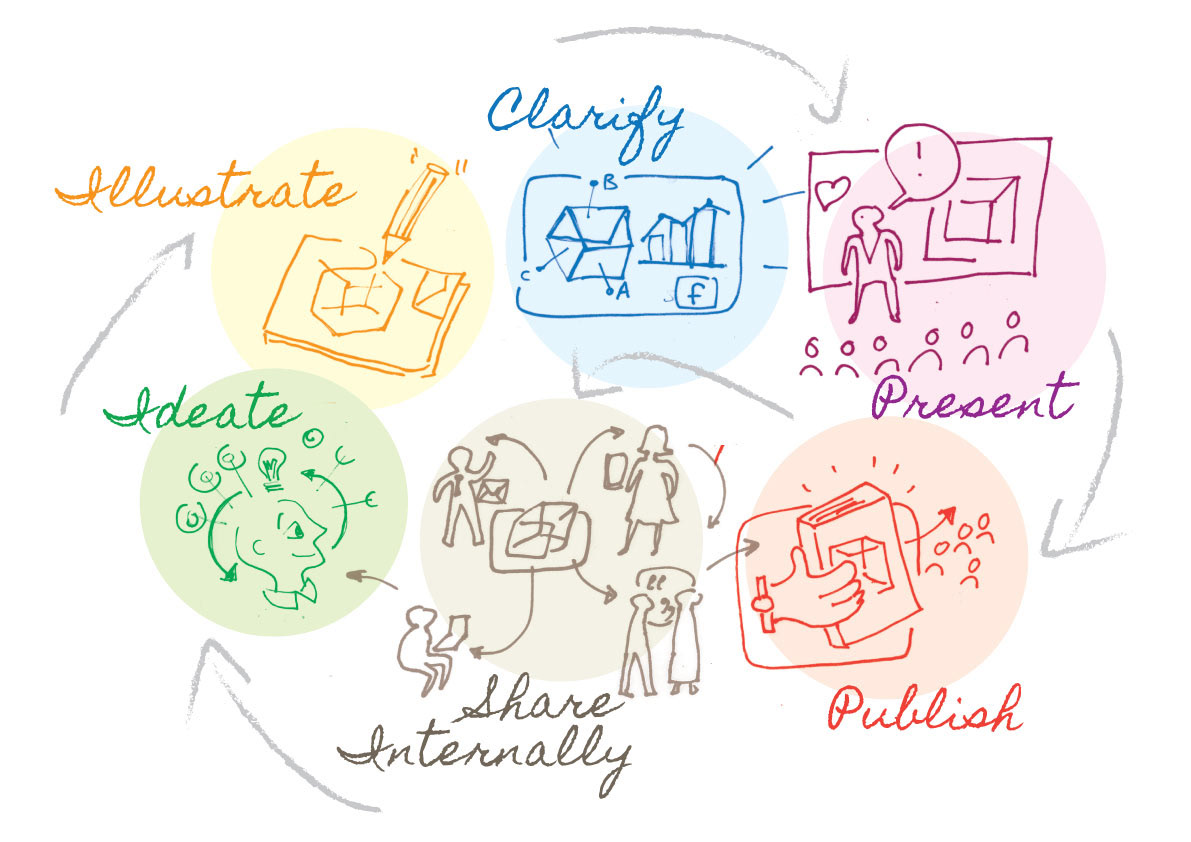 Services
Engaging visual ideas
  Make your ideas resonate as illustrations, infographics, diagrams ready for print, marketing, web, digital campaigns. Commission a set of images ready for print in a white paper, marketing campaign, social media, app or brand experience. Example 
here
Persuasive presentations
  Weave an impactful story and make an inspiring and professional impression. Let's work on a powerpoint, keynote, PDF or slideshow movie. Example 
here
Captured content
  Through conversation, a meeting or at a conference, capture that quality content as digital sketchnotes, doodles, text. Share with your team.  Hire me for a half day, or a day on site. Receive a PDF file and a series of social media ready images. Example 
here
Ready to go design brief
  Get moving fast on a design project, branding, website, marketing. Book a roadmapping session to translate your objectives and needs into a language that works for creative types.  Delivered as a half day or 1 day in person session. You receive a brief ready to get quotes on and start working.  
Benefits of working with me
One point of contact
Right now it's me. Just me. No switches to multiple team members, no passing along, no interns at the moment. I am happy to connect with a network of creatives to support larger projects. This also means that I work best with a consistent team contact.
Clarity and understanding
  We are all humans doing our best here. I'll share what's happening with you. I don't expect you or I to know everything from scratch. We will both ask and answer questions of each other.
Your customer is the focus
  You and I will prioritise their perceptions and experiences and base the brief on that goal. We don't base design decisions on our personal aesthetics, but to be fair, it's a pleasure to love the result.
A good start is half the battle
  Design projects reveal and visualise your strategy and objectives. If these are not openly addressed, the design process can get a bit chaotic towards the delivery point. I put more time into planning at the beginning and work to less stress at the deadline.
Business understanding 
 The project objective is your business, not my portfolio. Your communication needs come first.
Experienced designer 
  I have worked on global and local brands, at agencies and as an independent business owner.
Quality, crafted solution
  Typography and illustration combine at a high level. Sensitive visuals and on point communication. A beautiful visual presence is a crucial component of your business success.
What clients say

"Orlagh works with an exceptionally detailed eye, and is unafraid of new challenges. She grasps complex ideas quickly. She creatively commits to the projects she works on, and as a consequence of both her project ownership and technical skill the results are superb. I recommend Orlagh without question. "
Dr. Finn Macleod: founder of zenlikefocus.com
"Orlagh is a delight to work with. Her attention to detail and process, her design flair and her understanding working to deadlines makes the experience both educational and smooth. She brings fresh insights to the work and is always open to feedback and suggestions, making edits and changes with grace. I am very happy to recommend her and hope to work with her again in the future."
Clare Mulvany: founder Thrive School
"The work with Orlagh aimed to publish my first book from initial naming, to design and right through to production. I was delighted when the first presentation captured the essence of my book and how her creative direction ... finally resulted in a beautiful piece of the highest quality. It has received praise from many directions and opened many new doors for me as a piece of marketing material."
Pat Lynch, Entrepreneur, Author, Board Member Ignite Programme University College, Cork